Medical beauty at Ponsonby wellness can be accomplished through Traditional Chinese Medicine and Cosmetic Acupuncture.
Traditional Chinese Medicine is a broader therapeutic approach that includes Chinese Herbal Medicine. Traditional Chinese Medicine has helped individuals manage their health, increase their immune systems, and relieve short-term and chronic ailments for thousands of years.
Cosmetic acupuncture is one of the most popular ways for celebrities to take care of their skin because it is natural, requires no injections, is quick to recover from, and is completely safe! Cosmetic acupuncture takes a holistic approach to your health, not simply your appearance.
Medical Beauty by Cosmetic Acupuncture
Cosmetic acupuncture is a painless, non-invasive, and injection-free means of improving the appearance and inner body circulation. Our skin is the most visible aspect of our health issues. It isn't easy to have fresh and healthy-looking skin if you don't feel well.
The penetration of needles into face tissue may promote blood and lymphatic circulation and the supply of nutrients and oxygen to the skin. Increased circulation helps fill in fine lines, soften deeper wrinkles, and tighten the skin by stimulating collagen formation and giving it more firmness and suppleness.
Benefits of Cosmetic Acupuncture
The following are the benefits of cosmetic acupuncture done at Ponsonby Wellness Centre for better medical beauty and skin health.
Better Production of Collagen 
It is thought that facial acupuncture stimulates lymphatic drainage, which increases blood flow to the face. Collagen synthesis will be boosted, which will help decrease fine lines and wrinkles.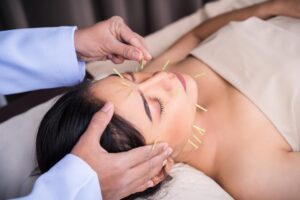 Reduced Acne
Acne-prone skin types might seek facial acupuncture to augment their over-the-counter balms and lotions. At the same time, it hasn't been clinically proven to cure any skin issue. It may help eliminate toxins that lead to breakouts by stimulating lymphatic drainage.
Reduced Jaw Tension and Inflammation
Direct insertion of needles to specific acupuncture sites improves blood circulation, which may trigger an immunological response that reduces inflammation. It may also "assist in the release of trigger points in different body muscles.
Traditional Chinese Medicine (TCM)
Traditional Chinese Medicine (TCM) is a kind of Medicine that may be used to manage and cure ailments. It is based on traditional Chinese philosophies and ideas.   It is a health philosophy that considers the human body an organic entity. It asserts that, although the body's viscera and tissues have specific jobs and duties, they work together to support everyday living activities. Moreover, TCM views the human body and its exterior natural environment as an interconnected organic unit. Consequently, even skin ailments like acne, pigmentation, an uneven complexion, and dry, coarse skin are seen as the result of frustration between viscera, tissues, and organs or between the human body and the natural environment.
At Ponsonby wellness, Traditional Chinese Medicines benefit people through natural means. Many of these medicines are beneficial for beautification and are regularly used by individuals.
The following are some Traditional Chinese Medicines commonly used.
Ginseng: 
Ginseng is known as the "King of Herbs." This adaptogen aids the body in combating stress and is also beneficial in preventing aging, promoting health and energy, and increasing vitality while strengthening the immune system.
Cordyceps 'Ling Zhi': 
An antioxidant-rich mushroom that aids immunological health. Astragalus 'Huang Qi' is another powerful herb that supports the immune system, particularly with the advancing age.
Knotwood: 
Excellent for preventing premature aging, increasing lifespan, and maintaining hair health.
 Jujube Date 'Da Zao':
A date is used to replenish the blood and aid digestion. Amino acids, flavonoids, vitamin B, vitamin C, vitamin A, minerals, and iron are abundant in them, which help to promote immunity and keep blood vessels flexible.