Acupuncture needles gives you a natural youth beauty by regenerating your OWN cells.
Cosmetic acupuncture is one of the most popular options for celebrities to look after their skin, as it is natural, no injections needed, fast recovery and safe! Cosmetic acupuncture treats you holistically, not just your outer beauty but your overall health.
Advanced Facial Rejuvenation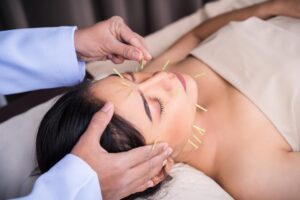 A natural way to improve your beauty
Cosmetic acupuncture is a safe, non-surgical, no injection method to improve your beauty, as well as inner body circulation. Skin is the biggest area to show our health conditions. If you are not feeling healthy, it is hard to have healthy looking skin too. 
The insertion of needles into the facial tissue can increase blood and lymphatic circulation, which can improve oxygen and nutrients delivery to the skin. The increasing circulation stimulates collagen production, and give the skin more tightness and elasticity, helping to fill out the fine lines, soften deeper wrinkles and firm the skin.
But that's not all! Increasing circulation can also rehydrate the skin by stimulating sweat and sebaceous glands, helps exfoliation and encourage new skin cell proliferations. Placing acupuncture needles into muscles in the face can also take away the "stressed" look by relaxing facial muscles.
About cosmetic acupuncture